Wolves at the Gate
Information
Origin:

Cedarville, Ohio, United States

Genre:

Metalcore, Hardcore punk, Post-hardcore

Years active:

2008-present

Labels:
Associated Acts:

Out of the Mire, The Overseer, Project 86, Decyfer Down

Current members:

Steve Cobucci
Ben Summers
Nick Detty
Abishai Collingsworth

Former members:

Ryan Connelly
Dave Nester
Colin Jones
Jeremy Steckel
Ben Millhouse
Dylan Baxter
Wolves at the Gate is a metalcore band that was based out of Cedarville, Ohio in the United States. The band began in 2008, formed by Guitarist/Vocalist Steve Cobucci.
The band began in 2008 out of Cedarville, Ohio in the United States, with the lineup of Steve Cobucci on Guitars and Clean Vocals, Colin Jones on Unclean Vocals, Jeremy Steckel on Guitars, Ben Summers on Bass, and Ryan Connelly on Drums. Connelly's stint with the band was shortlived, with Dave Nester taking over the position. Throughout the years, the band recorded several EPs, including Prisoner of War, Pulled from the Deep, and We Are the Ones. However, in 2011, the band officially signed to Solid State Records, who re-released We Are the Ones.[1]
By 2012, Steckel, Jones, and Nester all departed from the band with Nick Detty filling in the Unclean Vocal position and Nester's position was filled by Ben Millhouse. Steckel's position was left unfilled with Cobucci taking Lead and Rhythm Guitars. However, before he departed, he also recorded on the band's debut album, Captors, which was released that year.[2] A cover EP was released the next year, covering Thursday, Thrice, Blindside, and The Receiving End of Sirens.[3] Following the release, Millhouse departed from the band, eventually going on to join Decyfer Down.[4] Dylan Baxter joined on following his departure and the band began to write their sophomore album. In 2014, the band released their sophomore album, VxV, which was considered their biggest release. Baxter departed in 2015, with The Overseer Drummer Abishai Collingsworth taking over the status of Wolves' Drummer.[5]
Types & Shadows, the band's third album, on November 4, 2016, which was released on Solid State and debuted Collingsworth as a member of the band. Three years later, the band announced Eclipse which is set to release on July 26, 2019.[6]
Current
Nick Detty - Unclean Vocals, Piano (2012-present)
Steve Cobucci - Guitars, Clean Vocals (2008-present)
Ben Summers - Bass (2008-present)
Abishai Collingsworth - Drums (2015-present)
Former
Colin Jones - Unclean Vocals (2008-2011)
Jeremy Steckel - Guitars (2008-2012)
Ryan Connelly - Drums (2008)
Dave Nester - Drums (2008-2011)
Ben Millhouse - Drums (2012-2013)
Dylan Baxter - Drums (2013-2015)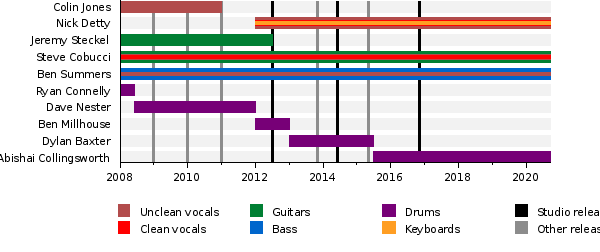 Discography
Edit
Studio albums
Captors (2012)
VxV (2014)
Types & Shadows (2016)
Eclipse (2019)
EPs
Prisoner of War (2009)
Pulled from the Deep (2010)
We Are the Ones (2011)
Back to School (2013)
Reprise (2015)
References
Edit
Community content is available under
CC-BY-SA
unless otherwise noted.