Unashamed
Information
Origin:

Orange County, California, United States

Genre:

Hardcore punk, Metalcore

Years active:

1993-1998, 2009-2011

Labels:
Associated Acts:

Throwdown, The O.C. Supertones, Project 86, The Dingees, Mend, Rainy Days, Resolve, Open-Field System, Tetzel Would Be Proud, Line End

Former members:

Jeff Jacquay
Dave Bhanson
Dave Lauridsen
Bobby Canaday
Dan MacManigal
Matt Mentley
Shane Sowers
Matt Hernandez
Dom Macaluso
Chris Bertoni
Jason Carson
Randy Baranosky
Unashamed was a hardcore punk band that formed out of Orange County, California in the United States. The band began in 1993 and signed on to Tooth & Nail Records, until 1998, when the band broke up. In 2009, the band reunited with a different lineup and went forward until 2011, when the band seemingly disbanded or embarked on an indefinite hiatus.
Unashamed formed in 1993 with the lineup of Dave Bhason on Vocals, Bobby Canaday on Guitars, Dan McManigal on Guitars, Shane Sowers on Bass and Chris Bertoni on Drums. Bhanson departed rather quickly, replaced by Dave Lauridsen. However, he did not remain in the lineup long either. Jeff Jacquay would then take over the position and solidify the lineup. With the lineup, the band recorded their self-titled demos.
In 1994, the band was a part of a Tooth & Nail Records compilation, Helpless Amongst Friends, with a single, titled "Say It To My Face".[1] After being featured, the band signed to the label. That same year, the band recorded and released their debut studio album, Silence, which was one of the first the label's releases. In 1995, Sowers and Bertoni departed from the band, who were replaced by Matt Hernandez (The Dingees, Project 86) and Jason Carson (The O.C. Supertones) in the respective positions. Carson had attended their shows before and was full of energy and was a natural fit.[2] The next year, the band released their second full-length album, Reflection, with the lineup of Jacquay, Canaday, McManigal, Hernandez and Carson.[2]
In 1997, the band had began to lessen their activity. In 1998, the band announced they were breaking up, performing at Cornerstone Festival 1998, on July 4th weekend. Carson and Hernandez began to focus more on their bands, while the others lost the desire and wanted to experiment more with other styles.[2] Jacquay performed in Rainy Days with former members of Bloodshed and in Resolve with former members of Focused and Centerpoint, while Dan performed in Mend, who was also on the Helpless Amongst Friends compilation.
In 2007, Jacquay did an interview, where he expressed interest in the band returning.[2] In 2009, the band officially reunited, however many of the members had moved on to different things and others did not want to return to it.[3] The band returned with the lineup of Jacquay and Canaday, while adding on former Throwdown members Dom Macaluso (Bass) and Matt "Mental" Mentley (Guitars) as well as Randy Baranosky, a friend of Jacquay's, performed Drums.[4] The band returned in January 2010 and performed their reunion show. The band began to tour and working on new material. However, in 2011, the band seemingly disbanded or embarked on an indefinite hiatus.[5]
Last Known Lineup
Jeff Jacquay - Vocals (1993-1998, 2009-2011)
Bobby Canaday - Guitars (1993-1998, 2009-2011)
Matt Mentley - Guitars (2009-2011)
Dom Macaluso - Bass (2009-2011)
Randy Baranosky - Drums (2009-2011)
Former
Dave Bhason - Vocals (1993)
Dave Lauridsen - Vocals (1993)
Dan "Danno" McManigal - Guitars (1993-1998)
Shane Sowers - Bass (1993-1995)
Matt "Bean" Hernandez - Bass (1995-1998)
Chris Bertoni - Drums (1993-1995)
Jason Carson - Drums (1995-1998)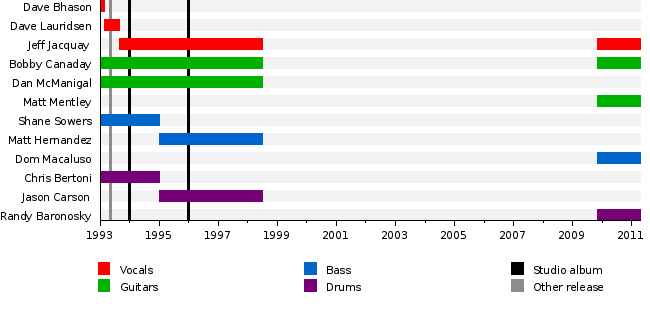 Discography
Edit
Studio albums
Silence (1994)
Reflection (1996)
Demos
Compilation appearances
Helpless Amongst Friends (1994)
Noize Volume 1 (1994)
Tooth & Nail Sampler Vol. 1 (1995)
Tooth & Nail Sampler Vol. 2 (1995)
4th Anniversary Box Set (1997)
This Is Solid State Vol. One (1999)
The Classics Hard (2004)
References
Edit
Community content is available under
CC-BY-SA
unless otherwise noted.