Soul Embraced
Information
Origin:

Little Rock, Arkansas, United States

Genre:

Death metal, Deathcore, Southern metal, Metalcore

Years active:

1997-1998, 1999-present

Labels:
Associated Acts:

Living Sacrifice, Even Devils Die, Machina, Bleeding Through, 3 for Sorrow, Chalice, Cryptic Memoirs, Evanescence, Fatal Thirteen, Kill System, Mourningside, PainGod, Project 86, Seminal Death, Sickshine, Solus Deus, The Burning, We Are the Fallen, The Killer and the Star, Throwdown, Heroes Among Thieves, Zao, Becoming Saints, Between the Second, Abandon the Artifice, Thy Pain, Brookroyal, The Pour, MT, The 5th Element, Temper Effect, Demon Hunter, Elliot, Eso-Charis, Eight Eyes, Melissa Martin Band, NoMara, Mindrage, Destroy Destroy Destroy, The Showdown

Current members:

Chad Moore
Rocky Gray
Cody Smith
Jeff Bowie
Lance Garvin

Former members:

Charlie West
Jack Wiese
Devin Castle
Ed Collins
Jon Dunn
David Sroczynski

Other members:

Arthur Green
John LeCompt
Jeremiah Scott
Soul Embraced is a death metal band that began out of Little Rock, Arkansas in the United States. The project began in 1997 as a side-project between Rocky Gray on Lead Guitars and David Sroczynski on Drums. However, the project broke up after writing one song in 1998, but came back in 1999, with the lineup of Gray, his brother-in-law Chad Moore on Vocals, Rhythm Guitarist Charlie T. West and Living Sacrifice Drummer Lance Garvin.
Origins and For the Incomplete (1997-2000) Edit
Soul Embraced formed in 1997, with the lineup of Rocky Gray and David Sroczynski, who were a part of the band Shredded Corpse. The two wrote one song together and the band broke up in 1998.[1]
In 1999, Gray came back to the project, alongside Living Sacrifice bandmate Lance Garvin on Drums, his brother-in-law Chad Moore on Vocals and Charlie T. West on Rhythm Guitars.[2] The four recorded an EP, titled The Fleshless, independently.[3] The next year, in 2000, the band released their debut album, For the Incomplete, through Clenchedfist Records, a label that had released Narcissus, Outcry, Thy Pain, Kekal and Grace For the Fallen.[4]
This is My Blood, Immune and following years (2001-2006) Edit
In 2001, the band recorded a cover song by Living Sacrifice off of their album Reborn, titled "Truth Solution". The track was featured on a compilation released by Clenched Fist, which also featured covers from labelmates Kekal, Crutch, Crimson Thorn, and Mindrage. That year, West departed from the band. Following West's departure, the three remaining members hired on two live members, Arthur Green (Living Sacrifice, ex-Eso-Charis) and John LeCompt (ex-Mindrage, ex-Evanescene) on Bass and Rhythm Guitars respectively.[5]
In 2002, the band recorded their sophomore album, This Is My Blood, which debuted the band's signing to Solid State Records. The album featured the first release without West and also featured Green and LeCompt, despite being only Live members.[5] The following year, in 2003, the band recorded and released their third studio album, Immune. That same year, For the Incomplete was re-released by Blood & Ink Records.[6]
The album came out with only the lineup of Garvin, Moore and Gray. Over the next few years, the band were inactive, as Gray focused more on performing with Evanescence. In 2006, Green and LeCompt departed the live lineup, with Jeff Bowie (Becoming Saints) joining on as their first official Bassist and Jack Wiese joining on Rhythm Guitars.
Dead Alive, lineup instability, signing with Rottweiler Records, Mythos and Hiatus (2007-2014) Edit
In 2007, Wiese departed from the band, with Devin Castle taking over Rhythm Guitars and Backing Vocals. Now, the lineup consisting of Moore, Gray, Garvin, Castle and Bowie, began to work and record to their fourth, and most popular album, Dead Alive. By 2009, the band saw the departure of Castle and Garvin, with Garvin spending more time working with Living Sacrifice. Gray took over Garvin's position, while the band hired on two new Lead and Rhythm Guitarists, Cody Smith and Ed Collins respectively.[7] Bowie departed in 2012, with Jon Dunn of Demon Hunter taking over on Bass. That year, the band were done with their contract with Solid State and decided to find a new label, leaving on amicable terms.[8]
At this time, the band began to work on their newest album, Mythos, which was released in 2013. The album was the band's fifth studio album and was their debut for their new label, Rottweiler Records, based out of Indiana and featured acts such as Grave Robber, Pantokrator and Abated Mass of Flesh, the final band having their EP produced by Gray.[9] The album also featured guest vocals of Bruce Fitzhugh and Jeremiah Scott providing additional Rhythm Guitars to the album.[10] The following year, in 2014, Collins departed, Garvin rejoined the band, Gray went back to Lead Guitars and Smith went to Rhythm Guitars.[11] The band went on a hiatus for the next several years.
Reunion (2017-present)
Edit
In 2017, the band created an Instagram account and in their biography, stated that a new album was coming soon.[12] Following up with an announcement that Bowie returned to the band and were considering a new tour.[13] In late 2017, the band performed at the Not So Silent Night event, alongside Grave Robber and XIII Minutes. Following the show, the band did an interview with Holy Metal Legacy, revealing that the band would be writing a new EP.[14]
Current
Chad Moore - Vocals (1999-present)
Rocky Gray - Lead Guitars (1997-1998, 1999-2009, 2014-present), Rhythm Guitars (1997-1998, 1999-2006), Bass (1997-1998, 1999-2006), Drums (2009-2014), Backing Vocals (1997-1998, 1999-present)
Cody Smith - Lead Guitars (2009-2014), Rhythm Guitars (2014-present)
Jeff Bowie - Bass (2006-2012, 2017-present)
Lance Garvin - Drums (1999-2009, 2014-present)
Former
Charlie T. West - Rhythm Guitars, Lead Guitars (1997-1998, 1999-2001)
Jack Wiese - Rhythm Guitars (2006-2007)
Devin Castle - Rhythm Guitars, Backing Vocals (2007-2009)
Ed Collins - Rhythm Guitars (2010-2014)
Jon Dunn - Bass (2012-2017)
David Sroczynski - Drums (1997-1998)
Live
John LeCompt - Rhythm Guitars (2001-2006)
Arthur Green - Bass (2001-2006)
Session
Jeremiah Scott - Rhythm Guitars (2013)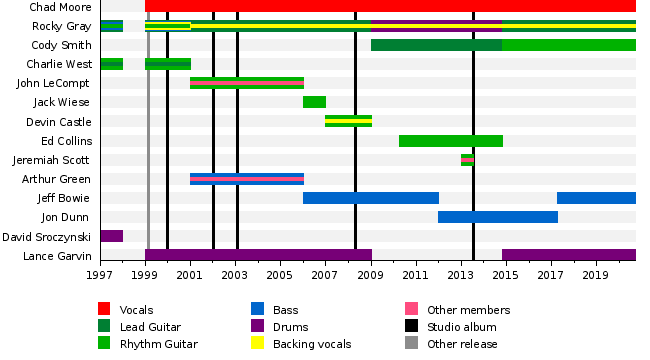 Discography
Edit
Studio albums
For the Incomplete (2000)
This Is My Blood (2002)
Immune (2003)
Dead Alive (2008)
Mythos (2013)
EPs
Other songs
References
Edit
Community content is available under
CC-BY-SA
unless otherwise noted.