Extol
Information
Origin:

Bekkestua, Norway

Genres:

Extreme Metal, Experimental Metal, Progressive Metal

Years active:

1993-2007, 2012-2013

Labels:

Century Media Records
Endtime Productions
Indie Recordings

Associated Acts:

Mantric, Lengsel, Benea Reach, Ganglion, Fleshkiller, Schaliach, Arvinger, Antestor, Doctor Midnight & the Mercy Cult, Absurd², Selfmindead, The Crest, Miseration, Tristania, Azusa

Website:
Current Members:

Peter Espevoll
Christer Espevoll
David Husvik

Former Members:

Tor Magne Gildje
Eyestein Holm
John Robert Mjåland
Emil Nikolaisen
Ole Halvard Sveen
Ole Børud

Live Members:

Ole Vistnes
Marcus Bertilsson
Extol are a progressive death metal band that began in 1993 out of Bekkestua, Norway. The band was formed by brothers Christer Espevoll and Peter Espevoll and their cousin David Husvik. Their friend Eyestein Holm join shortly thereafter. Over the years, the band has been highly acclaimed with several acts being highly influenced by them.
Formation and First Three Releases (1993-1999) Edit
Extol formed in Bekkestua, Norway by cousins David Husvik (drums) and Christer Espevoll (guitars), who were both 16 years of age at the time.[1][2] The two had played together since Fall-1993 and wanted to make it official. Peter, Christer's brother, who was 14 at the time, was recruited for vocals.[1][2] The band hired their friend Eyestein Holm for bass on May 17, 1994, as the band was practicing for a show that day, which resulted in him official joining the band.[1][2] The band began wanting to expand their musical style, moving on from average heavy metal music and began experimenting, as they did not want to be run of the mill.[3] With the style change, the band required an additional guitarist; a position taken over by Emil Nikolisen of Royal in 1995.[4]
The group soon received a reputation in their local scene. By January 1996, Extol made their first record appearance on a Norwegian metal compilation titled Northern Lights. The album featured several other local artists including Antestor, Groms and Schaliach. Rowe Productions, the label of Steve Rowe (Mortification), released the compilation. The band would then go on their first out of country show in Stockholm, Sweden. At the end of 1996, Nikolisen departed from the band to devote more time to Royal, with Ole Børud of Schaliach and Arnold B Family fame.[4]
In 1997, the next year, the band officially released a three song demo, titled Embraced. A new album would follow up with the demo in 1998, titled Burial, which would be released in December, which would be released through their label, Endtime Productions. The album would be licensed and distributed through Solid State Records in the United States and through Avalon Records in Japan. The album was critically received in a very positive fashion by both Christian and secular markets, which would be described as "a breath of fresh air among a genre that relies on satanic gimmicks."[5]
Shortly after, Extol performed their debut shows in the United States at the Cornerstone Music Festival in Bushnell, Illinois and the Texas Rockfest. The band also conducted a month-long tour with Swedish band Blindside in the Summer of 1999. Børud departed from the band before their new release, with him being replaced by Ole Halvard Sveen of Lengsel. The EP was titled Mesmerized, which was released via Endtime. The track featured three reworked tracks by Swedish industrial bands Sanctum and Raison d'être and three additional tracks; a recently recorded track, an outtake and a track from the Japanese release. However, the fans generally hated the EP. Holm left the band shortly after the release, being replaced by Tor Magne Glidje, also of Lengsel.[6]
Undeceived and Synergy (2000-2003) Edit
Extol returned to the studio in December of 1999 to record their sophomore album, titled Undeceived. The release was known as the "darker and harder" follow up to the already heavy Burial, moving into a more death metal style. The song, "Ember" became a popular song among the fans. Børud officially left the band after that, with the third and final member of Lengsel, John Robert Mjåland, joining on as their bassist, with Glidje switching over to guitars.[6][7][8]
In 2001, Paralysis, the band's sophomore EP, was recorded and released in Sweden. This EP featured of cover of Believer's "Shadow of Death", whom the band considers a great influence. After the EP was released, Glidje departed from the band to focus on his other project, Ganglion. In 2002, the band signed to Century Media Records, as they were free of their contract with Endtime Productions. Børud officially returned to the band in 2003.[7][8] The band's third album, Synergy, came out shortly after his return, showing an even greater appreciation to Believer. Following the release, the band went on tour with the death metal band Opeth.[9]
The Blueprint Dives and Hiatus (2004-2007) Edit
In June of 2004, Børud again departed from the band, alongside Christer, who felt they needed to "invest their time elsewhere."[10] Taking their place as permanent members of the band would be the returning on Glidje and Sveen.[6] In 2005, the band released what has been considered the most diverse album the band released, titled The Blueprint Dives or simply Blueprint. The band shot a music video for the single "Pearl" on the album, which came out just before the band released the album. The album was nominated for the Norwegian Grammy, also known as the Spellemannprisen, for best Norwegian metal album of 2005, as well as the Top 5 list of metal albums for the biggest newspaper Dagbladet. Following the album's release, the band embarked on two tours - a secular tour with Mastodon, Opeth and God Forbid, and a Christian tour with Winter Solstice, Becoming the Archetype and The Showdown. Two years after the release, on August 9, 2007, the band announced via their Myspace that they were going on a hiatus. Four of the five members of the band - Sveen, Glidje, Mjåland and Husvik - formed Mantric. Husvik would also join Dr. Midnight and the Mercy Cult.
Extol, Documentary, Second Hiatus and Return (2012-present) Edit
In 2012, the band came back together, as three-piece project, consisting of Peter Espevoll on Vocals, David Husvik on Drums and Ole Børud on Guitars and Bass, as well as Clean Vocals. The band would announce that documentary was being filmed.[11] On April 23, 2013 announced their self titled album which came out in June. Upon this announcement, "Open the Gates" was released for streaming via YouTube, and shortly thereafter, through a Facedown Records Sampler, Winter Sampler 2013 / 2014. Indie Recordings released the album worldwide, beginning with Norway, Germany and Austria, while Facedown released the album in North America. In July 2014, the band performed their first live show since 2006.[12] On July 7, the band officially announced their two newest tour members; Marcus Bertilsson of Miseration and Inevitable End on Guitars and Ole Vistnes of Shining and Trastania on Bass.[13] The documentary would later be released, titled Of Light and Shade in 2015.[14] The band was nominated as the Top 20 best Norwegian bands.[15] The band is currently on hiatus after Peter departed from the band unofficially in 2013.[16] Børud began a new project, called Fleshkiller, along with Vistnes.[17] Husvik went to play with Christer, his former band mate in a new project, which is titled Azusa, which also features Liam Wilson formerly of The Dillinger Escape Plan.[18]
On August 9, 2018, Extol teased what seemed to be their return with the original members of the band, Peter Espevoll, Christer Espevoll, and David Husvik.[19] However, on August 16, 2018, the band clarified they were discussing the project Azusa, which Husvik and Christer were both a part of.[20]
"Extol means to exalt, to lift up what you give glory to, and that's what's we're all about. We want to give God all the glory with our lives and with our music." ― Peter Espevoll
In an interview with Peter Espevoll, the band's vocalist, he explained Extol's name and it's meaning.
Last Known Lineup
| | Instruments | Years Active | Associated Acts |
| --- | --- | --- | --- |
| Ole Børud | Clean Vocals, Guitars, Flute, Bass | 1996-1999, 2003-2004, 2012-present | Absurd², Twisted Into Form, Aperture, Doctor Midnight & The Mercy Cult, Ganglion, InSection, The Crest |
| David Husvik | Drums | 1993-2007, 2012-present | Fleshkiller, Schaliach, Ole Børud, Antestor, Børud-Gjengen, Selfmindead, Azusa, Ganglion |
Former Members
| | Instruments | Years Active | Associated Acts |
| --- | --- | --- | --- |
| Peter Espevoll | Unclean Vocals | 1993-2007, 2012-2013 | Ganglion, Aperture |
| Christer Espevoll | Guitars | 1993-2004 | Absurd², Benea Reach, Azusa |
| Eyestein Holm | Bass | 1994-1999 | She Said Destroy |
| Emil Nikolaisein | Guitar | 1995-1996 | Serena-Maneesh, Royal, Selfmindead, Silver, The Loch Ness Mouse |
| Tor Magne Gildje | Bass, Guitars | 1999-2001, 2004-2007 | Lengsel, Mantric, Ganglion, Benea Reach |
| John Robert Mjåland | Bass | 2001-2007 | Lengsel, Mantric, Ganglion |
| Ole Halvard Sveen | Guitars, Backing Vocals | 2004-2007 | Lengsel, Bolivar, Mantric, Tim Familytree, Ganglion |
Live Members
| | Instruments | Years Active | Associated Acts |
| --- | --- | --- | --- |
| Ole Vistnes | Bass | 2014-present | Autumn Inspiration, Fleshkiller, Tristania, Shining, In Vain, Zerozonic, Green Carnation |
| Marcus Bertilsson | Guitars | 2014-present | Inevitable End, Miseration, The Weakening, Crimson Moonlight, Evolution Hour |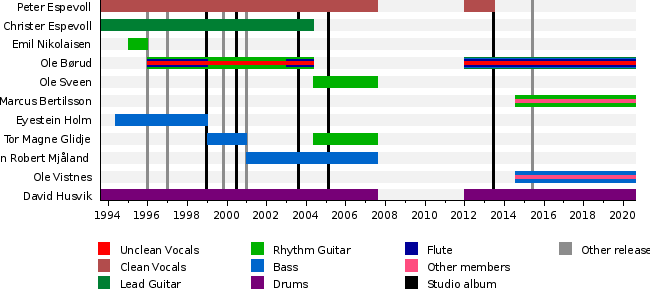 Discography
Edit
Studio albums
Burial (1998)
Undeceived (2000)
Synergy (2003)
The Blueprint Dives (2005)
Extol (2013)
Demo
EPs
Mesmerized (1999)
Paralysis (2001)
Compilation appearances
Northern Lights / Norwegian Metal Compilation (Rowe Production 012) (1996)
HM Hard Music Sampler - July/August 1998 (1998)
This Is Solid State Volume:One (1999)
Black Sun Recording Catalog 2000 (2000)
In the Shadow of Death (2000)
This Is Solid State Volume:Two (2001)
This Is Solid State Volume:Three (2002)
Legacy 02/02 (2002)
Identity 8 (2003)
Come Armageddon (2003)
KnuckleTracks LXXII (2003)
Terrorized 25 (2003)
10th Anniversary Box Set (2003)
In the Eyes of Death IV (2004)
Unerhört! Vol. 12 - Die Besten Newcomer Des Jahres (2004)
Metal For The Masses Vol. 3 (2004)
Metal For The Masses - Canadian Assault (2004)
Razor - Music From The Cutting Edge Vol. 13 (2005)
Razor: Music From The Cutting Edge (2005)
Century Media Gods of Metal Present: Gods of the Century (2005)
All Areas Volume 59 (2005)
Le Sampler RockHard  N°41 (2005)
Large Compilation CD #7 (2005)
KnuckleTracks 88 (2005)
Let The Hammer Fall Vol. 35 (2005)
Winter Sampler 2013 / 2014 (2014)
DVDs
Of Light and Shade (2015)
References
Edit
↑ 1.0 1.1 1.2 "Interview with Christer Espevoll of Extol". Metal-Rules.com. Retrieved on March 26, 2018.
↑ 2.0 2.1 2.2 "Extol: Norwegian hard music band present the church of noise". Cross Rhythms. December 24, 2003. Retrieved on March 26, 2018.
↑ 4.0 4.1 "A Feature Article by The Phantom Tollbooth" Tollbooth.org. Retrieved on March 26, 2018.
↑ "Burial - Extol". AllMusic. Retrieved on March 26, 2018.
↑ 6.0 6.1 6.2 "Century Media Records - Extol" Century Media Records. Retrieved on March 26, 2018.
↑ 7.0 7.1 "Guitarist Ole Borud Explains Decision to Leave Extol." Blabbermouth.net. Roadrunner Records. May 24, 2004. Retrieved on March 26, 2018.
↑ 8.0 8.1 "Inside Musicast - Interviewing the True Musicians - Ole Borud." Inside Musicast. April 18, 2011. Retrieved on March 26, 2018.
↑ "Extol To Support Opeth On Scandinavian Tour". Blabbermouth.net. September 20, 2003. Retrieved on March 26, 2018.
↑ Spitzer, Bradley (2005). "HM - Extol" HM Magazine. Retrieved on March 26, 2018.
↑ "Extol Documentary in Works". Blabbermouth.net. Retrieved on March 26, 2018.
↑ Kennelty, Greg (February 5, 2014). "Extol Teases Upcoming Live Performances" Metal Injection. Retrieved on March 26, 2018.
↑ "I guess it's time to introduce our two new live...". Facebook. July 7, 2014. Retrieved on March 26, 2018.
↑ Lambert, Aaron (June 22, 2015). "Film Review: Extol's Of Light And Shade Sheds Light on the Christian Extreme Metal Band". Metal Injection. Retrieved on March 26, 2018.
↑ "20 Best Norwegian Prog Bands". Prog Sphere. April 17, 2017. Retrieved on March 26, 2018.
↑ "Q&A: Ole Borud (EXTOL) On The Awakening Of FLESHKILLER". Metal Injection. August 31, 2017. Retrieved on March 26, 2018.
↑ "Fleshkiller (Feat. Extol Guitarist) Debut Album Awaken" Blabbermouth.net. Retrieved on March 26, 2018.
↑ "Design a logo for thrash metal act, Azusa". 99Designs. Retrieved on March 26, 2018. "christer.espevoll needed a new logo design and created a contest on 99designs."
↑ Beard, Mason (August 9, 2018). "EXTOL RETURNS!!!". The Metal Onslaught. Retrieved on August 9, 2018.
↑ "A week ago we dropped some hints about activity in the Extol camp". Facebook. August 16, 2018. Retrieved on October 15, 2018.
Community content is available under
CC-BY-SA
unless otherwise noted.