Eso-Charis
Information
Origin:

Fort Smith, Arkansas, United States

Genre:

Mathcore, Metalcore, Hardcore punk

Years active:

1995-2002

Labels:

Day-Glo Records
Deadself Recordings
Seize the Day Records

Associated Acts:

Living Sacrifice, Norma Jean, Fear is the Driving Force, The Radio Sky, The Handshake Murders, Lovedrug, Snailhuntr, Unwed Sailor, Bear Colony, The Early Hours, Chase Pagan

Alias:

Elliot (1995-1997)

Former members:

Cory Brandan Putman
Matt Depper
Jayson Holmes
Gabriel Edmonds
Stephen McDonald
Arthur Green
Matthew Putman
Eso-Charis was a mathcore band that began in 1995 out of Fort Smith, Arkansas in the United States. The band was formed by the Putman brothers, Cory Brandan and Matthew. The two hired on Arthur Green on Bass and Jayson Holmes on Guitars. The band released a self-titled album and two EPs, the debut of which was as Elliot.
Eso-Charis started in 1995, as a band called Elliot by the Putman brothers, Cory and Matthew, on Vocals and Drums. They hired on friends Arthur Green and Matt Depper on Bass and Guitars respectively. The band recorded an EP in 1996, titled The Plateau Green. In 1997, the band changed their name to Eso-Charis, which means "within grace" or "inside grace".[1]
The band transitioned Depper for Jayson Holmes on Guitars and Vocals. In 1998, the band recorded and released their debut self-titled album. The album was released originally through Seize the Day Records, a label owned by Living Sacrifice frontman Bruce Fitzhugh.[2] The album would later be licensed by Solid State Records. In 1999, the band recorded a 7", Setting Roots for Winter.
However, it did not come out until 2000, and Green and Matthew had already departed from the band. The two had gone on to play with Living Sacrifice. They were replaced by Gabriel Edmonds on Bass and Stephen McDonald on Drums.[3] Depper returned on Guitars as well. The band also added an addition Guitarist, Bassist, and Drummer.[4] In 2002, the band disbanded, with members going their separate ways. Holmes formed The Handshake Murders and Brandan went on to join Norma Jean as their new Vocalist.
Last Known Lineup
Cory Brandan Putnam - Vocals, Guitars (1995-2002)
Jayson Kent Holmes - Vocals, Guitars (1997-2002)
Matt Depper - Guitars (1995-1996, 1999-2002)
Gabriel Edmonds - Bass (1999-2002)
Stephen McDonald - Drums (1999-2002)
Unnamed Guitarist (1999-2002)
Unnamed Bassist (1999-2002)
Unnamed Drummer (1999-2002)
Former
Arthur Chester Green - Bass (1995-1999)
Matthew Lee Putman - Drums (1995-1999)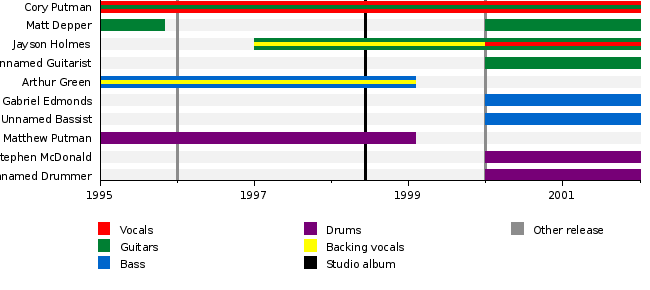 Discography
Edit
Studio albums
EPs
The Plateau Green (1997)
Setting Roots for the Winter (2000)
References
Edit
Community content is available under
CC-BY-SA
unless otherwise noted.